Endoscopia, volumen 26 [2014]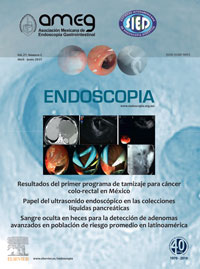 En el nuevo número de la revista ENDOSCOPIA presentamos a ustedes, además de trabajos de revisión y casos clínicos, trabajos originales realizados en México y Latinoamérica. Dice el refrán «el conocimiento es poder», por lo que un logro y avance importante que beneficia a todos, es la generación de información científica. Más valioso aun cuando proviene de nuestra población.
Eduardo Fenocchia, Patricia Gaggero, Mariella Rondan,Juan Carlos Lôpez-Alvarenga, Sergio Sobrino-Cossio, Natalia Lambert, Yoshinobu Eishi
Fecal immunochemical test (FIT) is a screening tool for detecting neoplastic lesions in asymptomatic patients. Colonoscopy is indicated in levels of FIT >100ngHb/ml.
Sandra García-Osogobio*, Félix I. Téllez-Ávila, Nahúm Méndez, Misael Uribe-Esquivel
In Mexico, cancer is the second leading cause of death after cardiovascu lar diseases, and colorectal cancer (CRC) represents 4% of all deaths due to cancer. More than 80% of patients with CRC are treated in tertiary cancer centers with advanced tumors (stages Mexico III and IV). However, there is no colonoscopy-based screening program. Our primary objective was to determine the prevalence of colorectal neoplasm.
Karen Ávila Tinajeroa y José Daniel Martínez Quintanab
Los cuerpos extraños son la segunda causa de endoscopia de urgencia. Aunque más frecuente en niños, se han documentan casos insólitos en adultos. Se presenta el caso de una paciente que ingiere un cepillo dental y se logra su extracción a través de endoscopia.